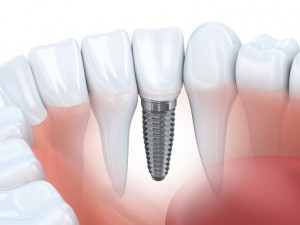 If you're missing one or more teeth, dental implant replacement might be your best smile restoration option. Unlike traditional crown and bridge or partial and full denture replacement, dental implants are permanent and the look and feel just like your natural teeth. At Westside Dental Associates, are staff is dedicated to providing you the most relaxing, comfortable dental treatment possible. From our warm, welcoming front desk staff and waiting are to headphones and blankets for your comfort during procedures, we are committed to providing outstanding oral health care. Our dental implant therapies are no exception. Dr. Les Latner is an experienced and knowledgeable implant dentist, and he can accurately determine whether you will be a successful candidate for implants and provide safe effective implant placement. If you are missing one or more teeth, don't just replace them, restore them with dental implants from Westside Dental Associates your Los Angeles dental leader. Call to schedule an appointment today.
Importance of Tooth Replacement
As we grow, our teeth grow with us. When a tooth is lost due to trauma, decay or gum disease, replacement is essential to maintain the bite we formed as we grew. Left untreated, missing teeth can have numerous adverse effects. The empty socket allows the rest of your teeth to shift. Often referred to as dental drift, this movement in your teeth can undo years of orthodontic straightening, or damage smiles that were naturally straight and evenly spaced. The gap in your teeth can also change the shape of your face over time making it more difficult to speak clearly and effecting your appearance. All of this can is treatable through traditional tooth replacement methods.
One hidden side effect of tooth loss that can't be remedied with traditional tooth replacement is loss of gum tissue and jawbone density. Your gum tissue is shaped by the root of your tooth. Without a root, the gum tissue deteriorates. Bones require stimulation to maintain their density. As we go through the motions of our daily lives, our bones are stimulated by motion as we walk, sit, stand, and exercise. The same is true of our jawbone. It is stimulated by the interaction with our teeth. Without that stimulation, much like the bone density loss found in people who are bed bound, our jawbone begins to breakdown. This loss of bone density can lead to painful chewing, swallowing and talking. Loss of density puts patients at greater risk for illnesses like TMJ and obstructive sleep apnea as your face and neck shape changes due to bone loss.
The Dental Implant Difference
Implants are unique because they replace not just the visibly parts of your teeth. Dental implants are inserted below the gum line to replace teeth from the roots up. The implant is made from durable titanium that mimics the way your root supports your teeth and gums and helps maintain gum tissue and bone density. This is especially important the more teeth you need to replace. If you need several teeth in a row or a full arch replaced, you will not receive an implant to replace every tooth, but the implants that support your bridge, partial or full denture support gum tissue and jawbone density happen frequently with traditional bridges, partials and dentures.
This unique tooth replacement option does require a large time commitment. You'll need to have at least 3 office visits to examine, implant and replace your teeth. During your first visit, Dr. Latner will examine your bite to determine whether you are a good candidate for implants. If Dr. Latner and you decide this is a good option, you will develop a customized treatment plan to restore your smile. On the second visit, Dr. Latner will place the implants outlined in your treatment plan below your gum line, and affix temporary, plastic replacement teeth. After you receive your implants, it can take anywhere from a few weeks to a few months for the implants to full heal and fuse with your jawbone. This process called osseointegration is why dental implants help to retain gum tissue and bone density, and because your implant fuses with the jawbone, your replacement teeth are permanent. They function just like your natural teeth, and have very little or none of the slipping, cleaning, or replacement hassles of traditional dentures.
Once your dental implants have fused, they are ready to anchor your custom milled dental prosthetic. The replacement teeth are built to replicate your tooth's natural shape and size. The porcelain material even retains the same inherent gleam that you may notice as light reflects off your smile. Your replacement teeth are permanently attached to the titanium implants, and with proper oral hygiene and regular dental examinations, dental implants will last a lifetime.
Schedule a Dental Implant Consultation
The innovative dental implant procedures are an effective method for restoring many smiles. However, some patients may not be healthy enough for the treatment, or may not have enough jawbone density to support an implant. There's no way to know for sure except to visit our office for a dental implant consultation with Dr. Latner. Reap the benefits of Dr. Latner's years of dental implant experience, and find out of implant replacement is right for you at West Side Dental Associates of Los Angeles. Still have some questions, use our "ask the doctor" tool to find out more information before your appointment.  Call to schedule your consultation today. Our conveniently located Los Angeles practice welcomes patients from Santa Monica, Marina Del Ray, Beverly Hills, Calabasas, Burbank and beyond.