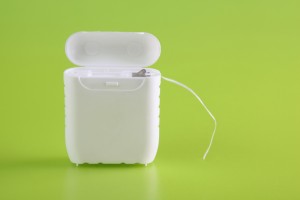 We have our eye on you, floss floppers. You know who you are. You can't hide from us! Did you honestly think that brushing alone could rid your mouth of all the bacteria that needs to go? We sure hope not. While brushing is a helpful tool and a necessity in keeping diseases and harmful bacteria at bay, it isn't the end-all be-all of practices. Flossing is just as important, if not more when it comes to keeping your oral health in tip-top shape. We've heard tons of excuses on why patients aren't flossing, and we always try explaining why flossing is so vital. Our office in Los Angeles, CA wants you to know that incorporating flossing into your daily dental hygiene regimen is the smart thing to do. All that food from the night before that didn't make it into your stomach is sitting in between your teeth, just waiting for other bacteria to join so they can throw a party in your mouth. Squash the party and start treating your teeth like your best friends. Start flossing!

Laugh Along With These Common Flossing Excuses
Oh, the excuses we hear as to why patients forgo flossing. It sometimes gets pretty comical. While we understand that some of the excuses may be legitimate, it still doesn't take away from the fact that flossing is vital to keep your oral health at a premium. Below are the most common gems that have been told to us:
"I never have food stuck in my teeth."
You're joking, right? Unless your toothbrush comes equipped with a special bristle that can reach between your teeth, flossing needs to become a part of your morning/evening routine immediately.
"I don't know the proper way to floss."
This is a legitimate excuse. There are a lot of patients who don't know that there is a right and wrong way to brush and floss. If you need help, our staff is glad to demonstrate the proper techniques.
"I don't have time to floss."
We all only have so much time to dedicate to our teeth, but it should never be the deciding factor. If you have time to play on your phone, you have time to spend flossing and brushing. Nice try.
Flossing Is Important Because…
Keeping your smile healthy and happy is important. It keeps diseases away and lets you enjoy a life full of great dental health. Why else is flossing important?
It's more effective when combined with brushing
Your gums are protected
It saves you money in the long run
Other diseases are kept far away
Tartar can't form
Need Flossing Advice? Schedule an Appointment
Our office in Los Angeles, CA is ready to help you enjoy good dental health. Flossing plays a major role in maintaining good oral health, as long as you're doing it correctly. If you have any pressing questions, don't hesitate to ask our staff for assistance. We're happy to serve residents throughout the area,  including Santa Monica, Culver City, West Hollywood, Beverly Hills and beyond.