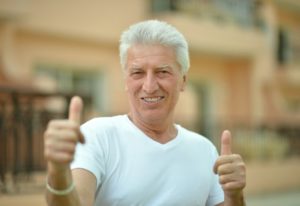 By far, dental implants are the most effective way to replace any number of missing teeth. By attaching to the jawbone like natural tooth roots, they are able to nearly perfectly mimic the function of your original teeth. What about people who have diabetes, though? Are they still eligible for implants? Here's the answer!
Will Diabetes Prevent Me from Getting Dental Implants?
People who suffer from diabetes have a difficulty processing sugar (glucose) in their body because the pancreas doesn't function properly. Thus, they can be subject to fluctuating blood-glucose levels. When glucose isn't able to be utilized and remains in the blood, it becomes toxic and can lead to a host of problems.
When it comes to oral health, having diabetes can increase the chances of developing gum disease, a condition that affects well over half the adult population in America. With that in mind, are dental implants safe for diabetics in Los Angeles? With proper treatment, yes they are!
Why Gum Disease and Dental Implants Don't Mix
Over time, gum disease can lead to the deterioration of your gum tissue and jawbone. These are two issues that can prevent you from receiving an implant.
To understand why, consider the typical steps of the implantation process:
An incision is made into the gum tissue to gain access to the underlying jawbone.
A hole is drilled into the jawbone so the implant can be attached.
Over a few months, the implant fuses with the jawbone through a process called osseointegration.
After successful fusion, an abutment and restoration can be added to fully rebuild your smile.
Untreated gum disease can compromise the above steps. If there isn't adequate gum tissue and healthy jawbone, the implant can unseat and there can be a painful infection.
The Need to Treat Diabetes
In addition to treating gum disease, it's of the utmost importance to be under a doctor's care for diabetes. Untreated, it can make it harder to heal from simple wounds and place a continuous threat on your oral health. More importantly, failing to treat the condition can place your life in jeopardy.
Taking a proactive approach, though, can lead to a more blissful future. With proper medication and lifestyle changes, you can control diabetes. Coupled with regular dental visits to monitor your oral health, you have a recipe for becoming eligible for dental implantation and to eventually have your smile and life completely restored.
The sooner you take action and visit a dentist in Los Angeles, the happier and better off you'll be!
About the Author
Dr. Les Latner earned his dental degree from Washington University in St. Louis. Throughout a career that has spanned more than 30 years, he has worked tirelessly to expand his knowledge so that he can provide the absolute best in care to his patients. A Master in the Academy of General Dentistry and clinical assistant professor at the UCLA School of Dentistry, Dr. Latner possesses the expertise to treat gum disease and place dental implants. He restores lives to normal at Westside Dental Associates, and he can be reached for more information or to schedule a visit through his website.