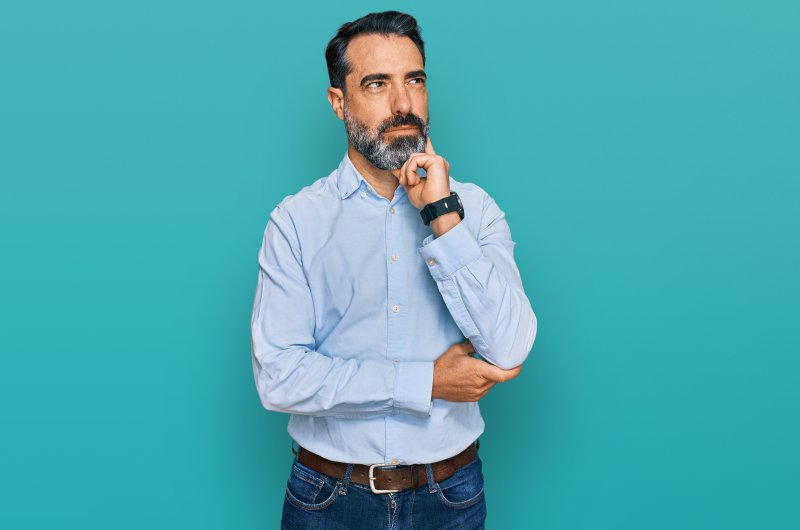 Dentures are an effective and long-standing solution for replacing missing teeth. While they often provide numerous benefits for a patient's smile, some people experience complications with their lower ones moving out of place. If this is something you're struggling with, there are certain things you can do to resolve the issue. Read on to learn why your lower denture might not stay in place and the steps you can take to ensure a more comfortable and stable smile.
What Would Cause Dentures to Shift?
If you've noticed that your lower prosthetics aren't remaining in their proper position, or they simply aren't fitting correctly, it could be that:
There is a misalignment between the denture border and your bite.
The jawbone is starting to shrink (also known as "bone resorption"), which occurs if there aren't any tooth roots to stimulate the bone tissue.
The denture base has become warped due to exposure to extreme heat or if it's too dry.
There isn't enough saliva to help adhere the denture properly with suction, which can be a result of certain medications.
How to Keep Your Lower Dentures in Place?
Denture adhesive is one of the most common ways to help keep your lower prosthetic in place. However, you might also need to consult your dentist about getting your tooth replacement relined or replaced. After a detailed evaluation, they can help determine the next best step to ensure that you won't have to encounter other difficulties with your dentures.
If you're still experiencing trouble with your prosthetics shifting, you might consider investing in implant dentures. While this treatment does come with a higher upfront cost, it'll provide optimal stability and greater longevity. Not only will they stay in place permanently, but you'll also find eating and talking to be incredibly easy and natural-feeling. By combining dental implants with dentures, you can successfully rebuild your smile from the roots up, as the titanium posts will also prevent bone resorption in the long run.
When it comes to replacing missing pearly whites, you shouldn't have to worry about your new teeth moving around. Speak with your dentist if you're having issues with your lower denture, and they'll be happy to determine if implant dentures are a suitable option for you!
About the Author
Dr. Les Latner has decades of experience providing exceptional dental care. Not only is he a clinical assistant professor at the University of California, Los Angeles School of Dentistry, but he's also a member of numerous organizations such as the Academy of General Dentistry and the American Dental Association. If you have concerns about your dentures or wish to schedule a visit with him, check out his website or give him a call at 310-765-7441.