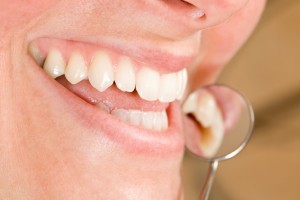 When you think about the reasons for straightening your crowded, gapped or otherwise misaligned teeth, you're probably just thinking about the cosmetic benefits of a more beautiful smile. But your dentist in Los Angeles, Dr. Les Latner, wants you to know that a properly-aligned bite does far more than help you look better — it also improves your overall health. How? Keep reading to find out!
Improper Bite Alignment Affects Your Health
Your mouth is the gateway to your body, and what goes on here can have a real impact on the rest of your health. And that includes the way your bite fits together. The alignment of your teeth can affect or be affected by other areas of the body — we've listed the most common ways your bite relates to your overall health below.
Jaw Health
When your teeth don't fit together properly, undue stress is placed on your jaw, or the temporomandibular joint (TMJ) as a result. The condition known as temporomandibular dysfunction (TMD) cause a number of painful side effects, including the following.
Difficulty opening and closing the jaw

Nighttime teeth grinding

Painful eating due to a dysfunctioning jaw

Facial, neck and/or ear pain

Chronic headaches

Tingling extremities
TMD is often successfully treated with orthodontics that improve the alignment of the teeth to take unnecessary strain off the jaw.
Dental Health
Crooked, crowded and misaligned teeth can be difficult to properly clean. If you can't fit floss between a group of teeth, or if it's very painful when you do, you'll be far less inclined to perform this crucial step like you should. Unfortunately, crowded teeth often show significant plaque and tartar buildup as a result of insufficient cleaning — and these contribute to the development of gum disease, the leading cause of tooth loss in adults over the age of 35.
Self-Confidence and Overall Health
We can't leave the impact a well-aligned bite has on your mental health off the list. When you feel good about the way your teeth look, you'll smile more — and over time, that increase in self-confidence can lead to a happier, better life overall. In fact, studies show that people with attractive smiles are perceived as happier and more successful by their peers.
Invisalign in Los Angeles
Dr. Les Latner is happy to offer patients the benefits of straighter teeth with Invisalign, the clear braces solution for adults and older teens. He was actually one of the first general dentists ever to offer the treatment — so you can feel good knowing you're in highly experienced hands at Westside Dental Associates.
There's no need to submit yourself to the stress or embarrassment of metal brackets and braces on your quest for a straighter, more beautiful smile. If you're interested in clear braces, contact Westside Dental Associates to discuss Invisalign today!