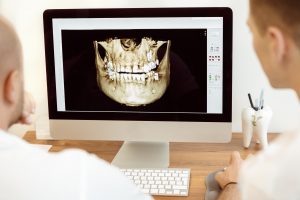 When the first personal computer was introduced to the general public in the 1980's, the whole world changed. We were thrust into the Information Age, a time when technological advancements would begin to explode. The residual effects are still being felt, appearing in every field that you can think of, including dentistry. That means that a trip to your dentist in Los Angeles represents a completely different experience than it did years ago. Learn how your local professional has married experience with technology to deliver the maximum in comfort and care.
New Technological Advances that Benefit You
Here are some of the new advances in dentistry that offer you a completely different experience and level of care:
Intraoral Camera – This is a wand with a camera on the end that captures high-resolution images of the inside of your mouth, that are displayed on a nearby monitor. It allows you a never-before-seen view of the inner workings of your oral structure. You can now feel more empowered and in partnered in your oral care with your dentist.
Digital X-Rays – The traditional way of capturing an X-Ray image is to wait on the film to develop in a darkroom. But you have a busy life – you need something faster. The digital method of capturing images delivers just that, transferring a digital file of the picture in a matter of seconds.
Soft Tissue Laser – This new technology allows for the comfortable treatment of issues related to gum disease, including the removal of diseased tissue with far less pain and faster healing than in previous times.
The Wand – Afraid of needles? If so, this method offers a virtually painless injection that doesn't trigger any anxiety, because the instrument used doesn't look like a syringe. The system is designed to start numbing your gum tissue before the injection starts.
Air Abrasion – This is a way to address certain small cavities without using needles or drills. It uses a high-powered stream of air and powder to clean away the decay from small cavities on the chewing surfaces of your back teeth. Then it injects a white filling into place. This method also offers the great benefit of less pain.
DIAGNOdent – The DIAGNOdent is a small laser that detects cavities and alerts your dentist with an audible noise when one is found. Then a numerical readout provides details about the cavity's size. This allows your dentist to catch the problem in its earliest stages and prevent it from becoming major.
The Role Your Dentist Plays
It's important to remember that technology is just part of the happy marriage that must occur between it and an expert in oral health care. That's why it's vital to find a dentist with the knowledge, experience and equipment to deliver the highest quality of care.
Reach out to your Los Angeles dentist to experience the pinnacle of excellence in a comfortable and efficient manner.
About the Author
Always on the cutting edge of advancements in the field of dentistry, Dr. Les Latner received his undergraduate and master's degrees from UCLA before earning his dental degree from Washington University in St. Louis. A member of a host of professional organizations, Dr. Latner practices at Westside Dental Associates and can be reached for more information through his website.