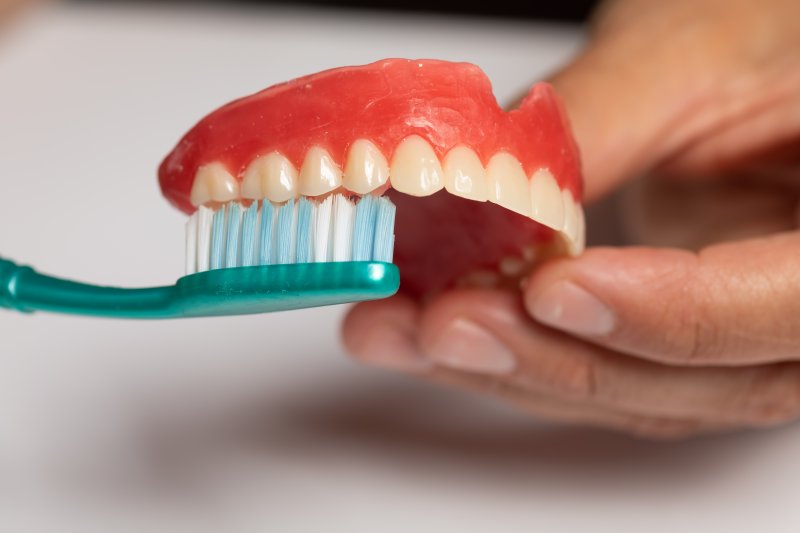 You wouldn't usually think of ill-fitting dentures as a dire health risk. They might be uncomfortable, or even painful, but life-threatening? Most people would call this an exaggeration at best and an outrageous lie at worst. Just how in the world could wearing dentures, however poorly fitted, threaten your life?
Below is a guide to ill-fitting or slipping dentures written by your resident Los Angeles dentist, with special focus on their health risks. Read on to learn just how dangerous they can be and what you can do to make them safer in the future!
Risks of Ill-Fitting Dentures
In some circumstances, wearing ill-fitting dentures creates a risk of oral cancer.
For instance, this connection has been documented in lichen planus sufferers.  A condition that occurs on the skin or inside the mouth, lichen planus is an autoimmune disease caused by unknown factors. While rare, it's known that poorly-fitting dentures irritate lichen planus into an erosive type that leads to oral cancer.
Ill-fitting dentures can also contribute to oral cancer when combined with alcohol and tobacco use. People who frequently use these products are already at a high risk of developing this cancer. However, ill-fitting dentures further allow residue from them to seep beneath the gum line and cause gum disease, increasing the risk of oral cancer by 14 to 20%.
Signs of Ill-Fitting Dentures
To find out whether your dentures have become ill-fitting, look for the following signs and symptoms:
Difficulty Chewing: If you've noticed increased difficulty chewing over time, it may indicate a need to refit your dentures.
Facial Shape Changes: Your teeth play a significant role in keeping your cheeks looking full and even. Changes to your cheeks or jawline's appearance can indicate that your dentures need adjustment.
Changes in Placement: Whether top, bottom, or partial dentures, they're probably not well-adjusted if they aren't sitting as they should.
Pressure Sores: Ill-fitting dentures trigger pressure sores — ulcers caused by prolonged pressure. The places in the mouth where the latter develop often indicate where your dentures need adjustment.
Speech Pattern Changes: You may experience slurred speech when first wearing dentures, but this usually fades over time. However, if these changes return or you experience new speech pattern changes, you may need an adjustment.
When to Talk to Your Dentist
If your dentures don't fit, contact your local dentist's office about adjusting them.
For an adjustment, your dentist might suggest several options. They might use reline to replace the denture base's lining. Alternatively, it may be necessary to rebase the dentures entirely. The best, most thorough option would be to surgically insert dental implants to hold the dentures in place and help stabilize the underlying bone.
Rather than being harmless, ill-fitting dentures present risks to your health. As such, err on the side of caution and be sure to reach out to your dentist if any of the problems listed above sound familiar!
About the Author
Dr. Les Latner is a professional dentist practicing in Los Angeles, CA. Having received accreditation in the American Academy of Cosmetic Dentistry and mastership in the Academy of General Dentistry, he strives to make patients feel at ease with his hospitable care. He also offers several types of denture treatments, including partial dentures, full dentures, and implant dentures. He currently practices at Westside Dental Associates and can be reached at his website or by phone at (310)-765-7441.