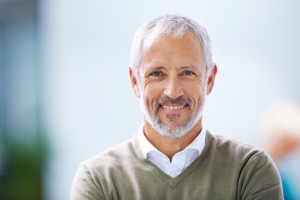 If you've got missing teeth, it doesn't matter if they're in the very back or right in the front — I know those gaps in your smile causing you a lot of stress. Whether you're missing one or several teeth, you're likely dealing with difficulty eating and speaking, not to mention lower self-confidence in the smile department. Did you know that dental implants can completely transform an incomplete smile? Or that they're by far the best replacement solution available? Learn more from Dr. Les Latner, your cosmetic dentist in Los Angeles today.
Dental Implants in Los Angeles: The Very Best Tooth Replacement
You've got options in the tooth replacement department. Fixed bridges replace your tooth by creating an actual bridge, using the surrounding natural teeth as anchors, and non-implant supported dentures pop in and out of your mouth. These solutions are certainly economical, but they're just not as effective as dental implants. Keep reading to find out why.
How Are Dental Implants Different from Other Options?
Tiny posts made of titanium, dental implants are surgically placed into your gum to act as a prosthetic root for your new replacement tooth. That's where this option differs from the rest — it replaces more than just the visible part of the tooth, or its crown. And that keeps your jawbone healthy, preventing deterioration and more tooth loss later on.
What Can I Expect from the Dental Implant Procedure?
In all, the procedure for dental implants takes about six months. It seems like a long time, but you'll have a temporary tooth replacement until your permanent one is ready to be placed.
First, your dental implants will be surgically implanted into your gum. Once this initial step is complete, you'll have a recovery period of two to five months — the time it takes for the jawbone to fuse with the titanium implant, which we call osseointegration.
After osseointegration has taken place, Dr. Latner will expose the tops of your implants and place abutments on each one. These abutments connect the implant to the new tooth replacement, providing an incredibly sturdy base for your new teeth.
Am I a Good Candidate for Dental Implants?
Dental implants are an excellent solution for people with one or more missing teeth who wish to transform their smiles for good. To know for sure if you're an ideal candidate for the treatment, you'll need to schedule a consultation with Dr. Latner, your Los Angeles implant dentist. In this initial appointment, he'll check to make sure you have sufficient existing jawbone structure to support the dental implants, and that you're in good oral and overall health. Patients with certain conditions, like gum disease and diabetes, may not be good candidates for gum disease.
Los Angeles Dental Implants: Learn More Today
If you're interested in transforming your smile with dental implants in Los Angeles, don't wait another day to schedule your initial consultation with Dr. Latner. (New patients click here.) We can't wait to help you achieve your smile dreams with dental implants!