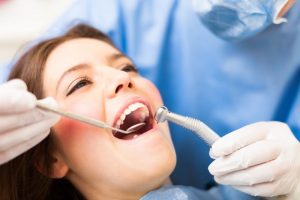 You're getting ready for a nice night out and you're looking and feeling great. Just before leaving, you take a look in the mirror. That's when you notice that one little chip in your tooth that's keeping you from smile perfection. Have you been avoiding getting it fixed because of the time and money you think it will cost? No need to worry, with cosmetic bonding in Los Angeles you can repair your smile in just one visit at an affordable price. Keep reading to see how this amazing cosmetic procedure can enhance your pearly whites!
What is Cosmetic Bonding?
Cosmetic bonding is an almost magical procedure dentists use to repair fractured, decayed, chipped, or discolored teeth. Bonding is the application of tooth-colored resin (plastic) to make your teeth look as good as new. Unlike other treatments such as veneers, bonding can be done in a single visit because the material can be sculpted and polished in no time.
Your dentist will pick a shade of resin that matches your natural tooth color and apply the putty-like material to your teeth. This can then be sculpted and smoothed into its proper shape. Then, your dentist will polish it until it matches the sheen of the rest of your teeth to make your smile look fantastic.
How Can it Improve My Smile?
Cosmetic bonding is an effective solution for multiple dental imperfections including:
Repairing decayed teeth.
Restoring chipped or fractured teeth.
Erasing stains and discoloration.
Changing the shape or color of your teeth.
Lengthening teeth that appear too short.
Closing minor gaps.
If you have any of the above dental issues, talk to your cosmetic dentist in Los Angeles to see if bonding could help your smile. Because the bonding resin is so versatile, it can fix various dental issues which could save you a lot of time and money in the future.
When you receive cosmetic bonding, be sure to avoid tea, soda, coffee, and cigarette smoke in the first 48 hours after the procedure because these substances can stain the resin. Be sure to brush, floss, and see your dentist for cleanings regularly. Cosmetic bonding can last for many years if taken care of properly.
We know that getting into see your dentist can be hard on your time and money. That's why your dentist offers cosmetic bonding—one of the quickest and most affordable ways to get the smile you've been dreaming of! Talk to your local dentist today to get started.
Meet the Dentist
Dr. Les Latner has been practicing dentistry for over 30 years. He takes pride in enhancing his patients' smiles cosmetically. That's why he is one of less than 10 dentists that have received accreditation in the American Academy of Cosmetic Dentistry and mastership in the Academy of General Dentistry. He currently practices at Westside Dental Associates and can be contacted by phone at (310) 477-1081 for any questions you may have.