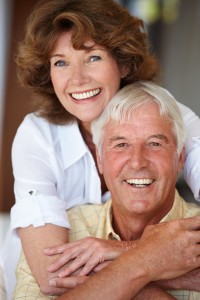 To say I've seen a lot of teeth throughout my career would be an understatement. One thing I've learned during these years as your trusted Los Angeles dentist is that no two mouths are the same — ever. What works for one patient may not (and probably won't) work for another. That's why at Westside Dental Associates, we make sure to offer variety with each of our services. It's no different with dentures. If you're missing teeth and need a good, sturdy replacement in 2016, keep reading to learn about your options with modern dentures in Los Angeles.
A Variety of Options for Your Dentures in Los Angeles
When it comes to advancements in dentistry over the past few decades, tooth replacement might top the list as the area with the most improvement. We're not talking about your grandmother's dentures here — today's tooth replacement is affordable, effective and can be just as sturdy and beautiful as your own natural teeth.
Traditional Dentures
When you think of dentures, you're probably imagining the conventional kind: a full set attached to a gum-colored base. Traditional dentures are secured in the mouth by denture adhesive or natural suction. For patients only missing a few teeth, partial dentures can be created, too.
Unfortunately, traditional dentures often result in an ill-fit, and must be remade as the mouth degenerates due to the missing teeth.
A better option for tooth replacement is a denture that's held in place by dental implants.
Implant-Retained Dentures
While the treatment time is longer, nothing offers a better tooth replacement than one secured by dental implants. The implants are tiny titanium posts, inserted directly into the space left by missing teeth. They act as a prosthetic root, stabilizing the beautiful denture that fits on top.
The benefits of implant-retained dentures are many compared to non-implant supported options. Some include:
Stronger oral health. Because the dental implant provides the stimulation the jawbone needs to stay healthy and whole, it won't degenerate over time — and that means your denture will never have to be refitted for your changing mouth.

Restored ability to eat, speak and smile just like you're used to, free from the stress or worry of an ill-fitting denture.

You never have to deal with messy denture adhesives or clips and brackets. Your tooth replacement will fit perfectly for years and years to come.

In fact, when cared for properly, implant-supported dentures can last for a lifetime.
Enjoy Modern Dentures from Westside Dental Associates
Are you ready to experience life with a complete smile once again? Or do you need to free yourself from the discomfort of an ill-fitting replacement? Don't wait to enjoy the benefits modern dentures provide. Contact Westside Dental Associates to schedule your consultation with Dr. Les Latner today! New patients, click here.