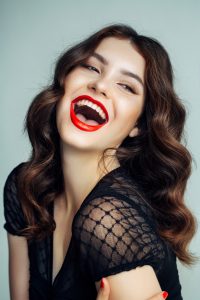 Los Angeles is home to some of the most glamorous people on the planet – from movie stars, to musicians, to athletes, you're surrounded by beautiful people. To get ahead in this town, image and appearance is important – especially when it comes to your smile. If you have crooked teeth you'll certainly want the issue to be corrected, but traditional metal braces will only make the problem worse before it gets better. With Invisalign in Los Angeles from Westside Dental Associates, you can take advantage of invisible treatment and the red-carpet smile you deserve.
What Is Invisalign?
Invisalign is the premier method of straightening teeth. This system uses clear, removable aligners that gradually shift your teeth into place over time. Dr. Les Latner will start the process by discussing the results you'd like to achieve. He'll then use a digital 3D model of your teeth and will give you a sneak peek at what your perfect smile will look like when you're done with treatment.
We'll send your digital model and impressions to the lab that will custom create these BPA-free, acrylic aligners just for you. You'll receive the entire course of treatment in one shipment, and they will be numbered in sequential order for your convenience. You'll switch to a new pair about every two weeks. Just wear Invisalign and be amazed by the results.
Why Is Invisalign The Clear Winner Over Traditional Braces?
Dr. Latner explains why these clear aligners are the superior choice over metal braces for many reasons:
Time – Most patients complete treatment in 6-18 months. And, since you won't need to visit us every two weeks to have your braces adjusted, you'll save time with fewer dental appointments.
Diet – Invisalign is unique because you'll remove the aligners when you eat. That means you can still enjoy a balanced diet – including carrots, apples, and corn on the cob. And, you can indulge in popcorn and chewy caramels, too.
Invisible Treatment – If your teeth are crooked, there's a good chance that you'd rather not call more attention to the problem with a metallic grin. These aligners are practically invisible and remarkably thin, yet effective. The only person who'll know you're undergoing treatment is you.
Comfort – You'll never have to deal with nicks and cuts to your cheeks, tongue, and lips from metal braces – and you can say goodbye to icky dental wax. Invisalign is virtually pain-free, and the gentle pressure used to move your teeth into place is so comfortable, you may even forget you're wearing them.
Effective – Since Invisalign is clear, patients often wonder if this treatment really works. We can wholeheartedly assure you that you'll get your perfect smile. And, if you don't believe us, remember that stars like Khloe Kardashian, Katherine Heigl, and Anna Kendrick – who rely on their smiles for their celeb status – have all used Invisalign.
Now that you know why Invisalign in Los Angeles is clearly the right choice for you, schedule your appointment with Westside Dental Associates today and get the celebrity smile you deserve!