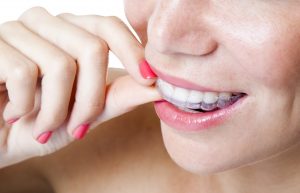 At Westside Dental Associates, we love straight smiles just as much as you do! That's why our award-winning dentist, Dr. Les Latner, offers Invisalign in West Los Angeles. We understand that it may be embarrassing for some patients to undergo a straightening treatment that includes metal brackets and wires. With Invisalign clear aligners, you don't have to worry about that at all and still can reap all the benefits of a straight smile.
What are the benefits of straight teeth?
The benefits of having straight teeth go beyond aesthetic reasons. In fact, those who have straight teeth relish in much more than a pretty smile.
1.      Less Headaches
Uneven teeth cause unnecessary wear and tear on your teeth. Sometimes this can affect your bite and your jaw. The uneven pressure causes your head to undergo constant pressure which can result in random headaches.
2.      Simpler Cleaning.
Food particles and dental debris can get stuck between crooked teeth more easily than with straight teeth. There are more crevices to clean between. Most of the time patients miss them, causing dental problems down the road.
3.      Less Accident-Prone.
Not only are crooked teeth harder to fit into an athletic mouthguard, but teeth that stick out are much more likely to break. Crooked teeth also push into your soft tissues and can cause cuts, sores, and infections.
4.      Improved General Health.
Decaying teeth and gums can be catalyzed by crooked teeth. If you have straight teeth, the risk for gum disease is dramatically lowered. This also lowers your risk for associated systematic health problems like heart disease and diabetes.
5.      Boosted Confidence.
Being in Los Angeles, home of Hollywood movie stars, Dr. Latner is aware of how much weight a straight, beautiful smile holds. If you feel less than confident about your crooked teeth, consider getting Invisalign clear aligners to fix your flawed smile.
How does Invisalign work?
Invisalign clear aligners are created from practically invisible, custom, plastic trays that no one can tell you're wearing. The aligners are fit just for you and apply a constant, gentle pressure to guide teeth into the correct locations. You wear each set of aligners for about two weeks, removing them only to eat, drink, brush, and floss. That's right—you can remove them! As you replace each aligner with the next in the series, your teeth will move gradually until they have straightened into the correct places.
Who's a suitable candidate for Invisalign?
The Invisalign system understandably sounds desirable to many patients, but it's not always the best choice for everyone. Sometimes, patients would be better served with traditional braces. How do you know if you're the perfect candidate for Invisalign? Here are a few factors Dr. Latner considers before recommending Invisalign as an effective treatment.
Teeth free of tooth decay and damage.
Commitment to good, long-term oral health.
Desire to fix crooked teeth, gapped teeth, and or crowded teeth.
Self-discipline to wear their aligners for at least 22 hours a day.
To discover if Invisalign is truly right for you, contact our West Los Angeles office today to schedule a consultation!