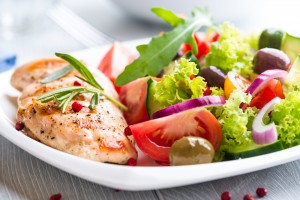 When it comes to your oral health, nothing is more beneficial than a good brushing and flossing combined with regular dental cleanings and checkups. And yet, there's more to having a healthy smile than just these. What you eat makes a difference too. That's why we want to use today's post to highlight certain foods that can help you support your oral health and overall wellbeing.
Milk, Cheese, and Yogurt
All three of these are high in calcium, which is essential for building strong bones and healthy teeth. Dairy foods also help you produce saliva, which has a neutralizing effect on any acid in the mouth. If acid isn't neutralized, teeth are more vulnerable to decay. Some research also suggests that the probiotics found in yogurt help protect the delicate soft tissue of the gums.
Foods High in Omega-3 Fatty Acids
A diet rich in omega-3 fatty acids is beneficial because of the nutrient's special anti-inflammatory properties. Inflammation and infection are both components of gum disease but foods high in omega-3 fatty acids can help you safeguard your smile.
Chocolate
Chocolate lovers everywhere, rejoice! It may sound too good to be true, but research indicates that cocoa can also help you stave off inflammation, in addition to protecting against decay. Just be careful about what kind you eat. It's better to choose a dark chocolate that's low in sugar.
Water
Not only does water help us keep our bodies hydrated, it's also good for washing away food and preventing the mouth from becoming too dry. A dry mouth encourages bad breath and cavities; drinking water throughout the day can help you discourage both.
Do you have questions about what other foods can help you support your oral health? Call Westside Dental Associates with your questions or to schedule an appointment with Dr. Latner. We serve patients from Los Angeles, Brentwood, Santa Monica, Venice, Beverly Hills, Marina del Rey, Rancho Park, Mar Vista, West LA, and beyond.