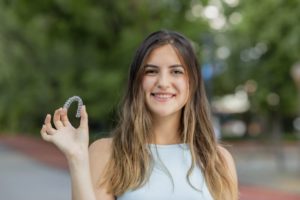 An Invisalign treatment in Los Angeles is one of the most convenient and effective ways to correct crooked teeth. However, the success and length of your treatment depends heavily on whether or not you follow a few basic but very important rules! While a few simple habits can make getting a straighter smile a breeze, some bad choices can cost you more time and money. Here are several key Invisalign do's and don'ts that will help keep your treatment on track!
Important Invisalign "Don'ts" to Remember
While Invisalign offers numerous freedoms that you can't get with traditional metal braces, there are a few important restrictions you should remember to get your straighter smile as soon as possible:
Don't eat or drink while wearing your aligners: Your aligners are prone to breaking or warping if exposed to the pressure of chewing or hot or cold foods and drinks. If you're eating anything or drinking something other than plain water, be sure to take out your aligners first!
Don't forget to clean your aligners: You'll need to regularly brush and rinse your aligners off to keep plaque and bacteria from building up on them. Not only could this cause them to become discolored, but it increases your risk of tooth decay and gum disease.
Don't leave your aligners out or wrap them in a napkin: Whenever you're not wearing your aligners, you should store them in their case. While it may feel convenient to leave them on a table or counter or wrapped up in a napkin, this makes it all too easy for your aligners to be left behind, thrown out, or become a toy for a nearby pet or child!
Helpful and Easy Invisalign "Do's" to Practice
One of the reasons why Invisalign is quickly becoming one of the most popular orthodontic treatments available is how much freedom they offer!
Do continue to enjoy all your favorite foods: Unlike traditional metal braces, Invisalign aligners are completely removable. This allows you to keep eating all your favorite crunchy and sticky foods without worry! Just remove your aligners, enjoy your meal, then give your teeth a quick brush before popping your aligners back in.
Do feel good about your smile: When you're wearing your Invisalign aligners, they'll be practically invisible. Whether you're hanging out with friends, going to work, giving a school presentation, or attending a job interview, you can feel confident in the appearance of your smile while you straighten it!
Do keep up your regular daily dental routine: Another benefit of removable aligners is that they make it easy to keep your oral health in great shape. You can keep brushing and flossing just like you always have to prevent tooth decay and gum disease as you straighten your teeth. To keep your aligners clean, gently brush them with a soft-bristled toothbrush and soak them in Invisalign cleaning solution.
Invisalign is the easiest and most effective way to correct misaligned teeth and bite issues. As long as you follow these simple do's and don'ts, you'll be enjoying a beautifully straightened smile in no time!
About the Author
Dr. Les Latner of Westside Dental Associates has been serving the smiles of Los Angeles since 1985. As a highly accomplished dentist and an active member of the American Academy of Cosmetic Dentistry, he offers a wide range of services to help you get the smile of your dreams. If you're a good candidate, he can help you overcome crooked teeth and bite issues with modern orthodontic treatments like Invisalign. To see if Invisalign is right for you, he can be contacted via his website or at (310) 477-1081.