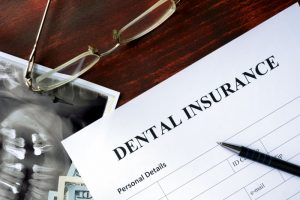 Dental insurance plans are typically confusing and hard to understand. What do they cover and how can I use my benefits? Unfortunately, coverage of cosmetic dentistry can be even more inconsistent. Most plans provide coverage for treatments that are deemed medically necessary. Cosmetic dentistry focuses on the appearance of your smile, which is important but may not be medically needed. Keep reading to learn more about insurance and its relationship to cosmetic services from your cosmetic dentist in Los Angeles.
What is Cosmetic Dentistry?
Cosmetic dentistry is a part of dentistry that is used to improve the aesthetic appearance of your smile. There are many different services within cosmetic dentistry, and the right treatment for you will depend on what kind of flaws or imperfections your smile has. Check out some of the most popular cosmetic services below:
Teeth whitening: A professional treatment that removes stains and discoloration from your smile.
Porcelain veneers: Thin shells of dental porcelain that are bonded to the front surfaces of your teeth to cover and conceal a wide variety of flaws in your grin.
Cosmetic bonding: A quick and easy way for your dentist to fix and improve small chips or flaws by using composite resin to shape and sculpt your tooth.
All-porcelain crowns: Blurring the lines between cosmetic and restorative dentistry, all-porcelain crowns strengthen damaged or decayed teeth while maintaining their beautifully natural appearance.
Is Cosmetic Dentistry Ever Covered by Insurance?
Sometimes, if you're lucky, cosmetic procedures can be covered up to 50% of the total cost. That being said, there usually has to be some sort of medical benefit established before your insurance will help out with cosmetic costs. Thankfully, a lot of cosmetic procedures nowadays do certainly help with your overall oral health, so it'll depend more on which service you need and the insurance plan that you have.
Services like teeth whitening are almost never covered because they purely focus on the look of your smile. However, in some circumstances, you may get help from your insurance on services like porcelain veneers, bonding, or crowns because they can improve the overall look, function, feel, and health of your smile.
Although your insurance plan may not think cosmetic dentistry is necessary, it can improve your overall confidence and self-esteem—making its services incredibly important. The best way of knowing what cosmetic services you could benefit from most and whether or not they'll be covered by your insurance is to visit your Los Angeles cosmetic dentist. They will be able to recommend the best services for you, and their office can reach out to your insurance provider to see if they can cover any costs.
Meet the Dentist
Dr. Les Latner has decades of experience in providing the best care for his patients. He takes pride in being in-network with Anthem, Guardian, Cigna, Metlife, and Delta. He also accepts all PPO dental insurance plans. He currently practices at Westside Dental Associates, and he can be contacted through is website or by phone at (310) 477-1081 for any questions.