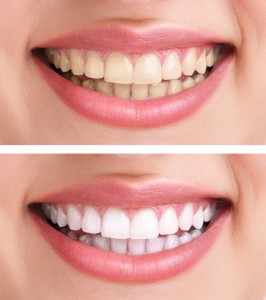 You might already know that Dr. Latner can whiten your smile in one appointment with Zoom! Whitening, but did you know that our Los Angeles office also has a second whitening option? Take-home whitening is a convenient alternative to in-office whitening, and one that works especially well for patients with sensitive teeth. It's also a good option for patients who want to give their smile an extra boost several weeks after an initial treatment with in-office whitening. Combining in-office whitening with take-home whitening is a good way to make your dazzling results last even longer.
Here's how take-home whitening works.
First, you'll come to see Dr. Latner of Westside Dental Associates for a special consultation. As part of that consultation, we'll take impressions of your teeth so that a set of custom whitening trays can be made. When your trays are ready, we'll also give you a supply of professional whitening gel.
To whiten your teeth at home, simply line your trays with your whitening gel and wear them for 30 minutes a day for between one and two weeks. Over that time, the stains on your teeth will fade, revealing a more dazzling smile. While you whiten, you can take care of some chores around the house, or you can relax with a book or in front of the TV.
If in-office whitening has made your teeth sensitive in the past, take-home whitening may be more comfortable. If you still experience sensitivity, follow-up your daily treatment by lining your liners with a toothpaste like Sensodyne and wearing them for half an hour.
Are you ready to transform your smile with take-home whitening? Call us today for an appointment. We whiten smiles from Los Angeles, Santa Monica, Beverly Hills, West LA, Mar Vista, Culver City, Rancho Park, Westwood, Brentwood, Venice, Marina del Rey, Playa Vista, and beyond.